Dr. Nirupama Reddy, DDS - McKinney Cosmetic Dentist
Dr. Nirupama Reddy is committed to providing excellence in dentistry, and stands out as a leading dentist in McKinney. The doctor uses the latest in dentistry techniques to provide you with a beautiful and healthy smile. Additionally, Dr. Nirupama Reddy believes strongly in education to prevent oral health problems before they occur, and makes sure to keep patients fully informed about their dental health. Read more about McKinney dentist Dr. Nirupama Reddy below.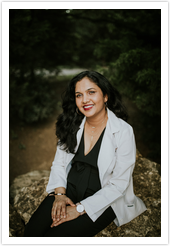 Nirupama Reddy, DDS
Dr. Reddy has been in dental field /practicing dentistry for more than 10yrs. She is a dentist from India and went to dental school in Boston where she obtained her DMD Degree. Right after graduation, her passion for implants, full mouth reconstruction and cosmetic dentistry led her to do a Residency program, AEGD at prestigious Temple University in Philadelphia. The Program helped her gain tremendous experience and confidence in treating complicated and challenging cases.
Dr. Reddy loves to spend quality time with each patient, understanding their needs, desires and prioritizing their concerns regarding their oral health. She also loves working with children and teenagers. She makes them comfortable and less anxious and fearless of regular dental checkups. Alot of patients compliment her saying that she is very gentle, caring and listens to their dental needs .
Dr. Reddy keeps updated with current recent advances in dentistry by taking Continuing Education courses in all aspects of dentistry. She has state of the art equipment and is a member of ADA, TDA, Mckinney chamber of commerce and volunteers regularly at local community health fairs and camps.
Dr. Reddy has a good sense of humor and eases patient's anxiety by making them laugh and unaware that they are in a dental chair.
Dr. Reddy's husband is an IT consultant. She is a proud mother of two beautiful children one boy and one girl. Dr Reddy likes to travel, bike and read in her free time..